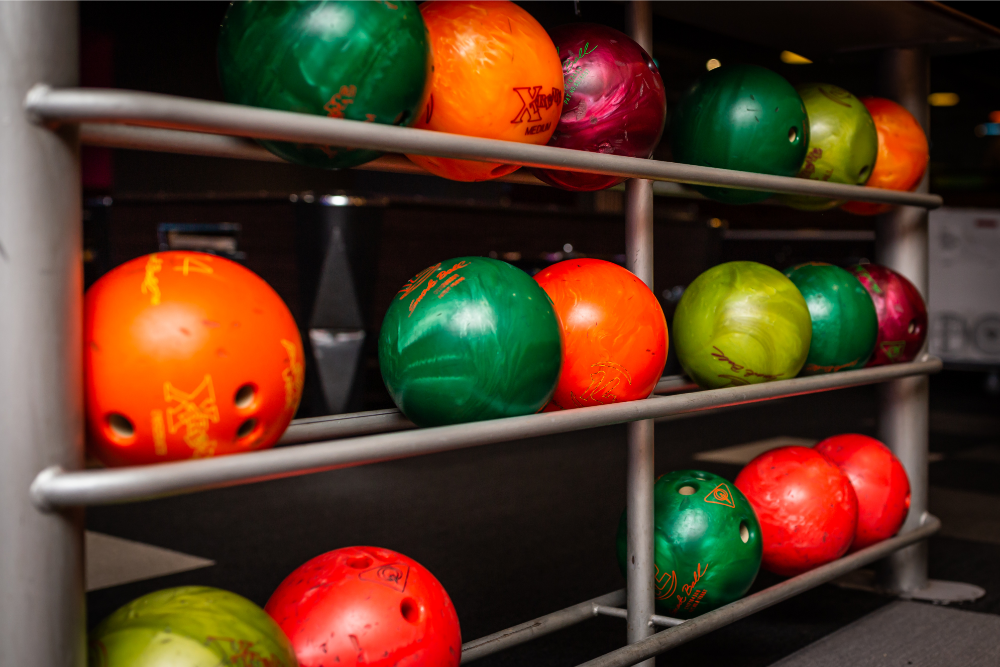 Frequently asked questions
We are now open & taking bookings for our English, Welsh & Scottish centres!
Face masks are no longer mandatory.
We will continue to have protective screens between each bowling lane seating area to ensure the safety of you and our teams.
Please arrive 15 minutes prior to your scheduled booking time to help us adhere to Covid checks and safety policies.
There is a few ways to contact us here at Tenpin.
By using our 'Contact Us' form here.
Call our friendly team on 0871 222 3675. Lines are open 7 days a week. Calls cost 13p per minute, plus your phone company's access charge.
Each Tenpin centre is different, so take a look at our location page to find your nearest centre and look at their opening and closing times.
We serve lots of tasty food and refreshing drinks on our menu - go to your local Tenpin location page to see what you fancy.
To see our allergen information click here. But remember, we can't guarantee that any of our food products are free from nuts, seeds, or other allergens. If you have any special dietary requirements, you're welcome to bring your food, however, this must be home-prepared food and management decision is final.
Absolutely! Our entertainment centres have everything you need to arrange an epic Birthday party. To find out more about the package, click here.
Unfortunately, we are only able to accommodate groups of up to 6 players at the moment. This restriction has been put in place to help reduce the spread of COVID-19 and keep everyone safe when visiting our centres. There are plenty of ways to book, and if you enter your desired day and the number of games you want to play in the QUICK BOOK, the website will show you the best deals on offer.
Anyone aged 16 and under is classed as a junior at Tenpin.
You can have a maximum of 6 people to a lane. We would recommend that all customers book their bowling online to avoid the disappointment of being unable to have a lane.
Every game of bowling is made up of 10 frames. In each frame, the players get two balls, unless you knock all the pins down on your first ball (that's a strike!).
All Tenpin centres provide all shoe sizes for bowling, and shoe hire is included in your game price, so you don't have to worry about that. If you want to bowl in your own shoes, we allow that too!
Tesco Clubcard members can exchange their Clubcard vouchers for 3x the value to spend at Tenpin. You must exchange your vouchers for a Clubcard Partner code before you can use it at Tenpin. Simply go to their website to exchange your vouchers.
Codes can be used as full or part payment at all of our centres towards our standard bowling tariff. Just remember codes can only be used once and if your code value exceeds to total due change can't be given. Clubcard Partner codes can't be used in conjunction with any other offer.
If you wish to pre-book bowling using a Clubcard Partner code, please call 0333 005 0221. This is a FREE phone number and lines are open 7 days a week between 9am-10pm.
All laser tag players must be over 4ft, and for groups under 16, a responsible person over the age of 18 must be present.
We love to hear from you - if you've got something to say about Tenpin, good or bad (we hope it's good!) you can contact us using our online feedback form.
Some of our centres have Sky Sports and this will be listed on the centre's individual page. Centres with Sky Sports will usually show major sporting events like the World Cup and league matches.
Just give us a call on 0333 005 0221 and we'll get you sorted. Our call centre is open 7 days a week. Calls cost 13p per minute, plus your phone company's access charge.
We don't take telephone bookings directly from our centres, however, you can call our dedicated booking line on 0871 222 36 75. Our call centre is open 7 days a week. Calls cost 13p per minute, plus your phone company's access charge. Please note that a £1.95 booking fee applies to all telephone bookings, however, we charge no booking fee when you book online.
Yes, we do. Gift vouchers are available from our centres and are sold in £5 and £10 amounts. To read more click here.