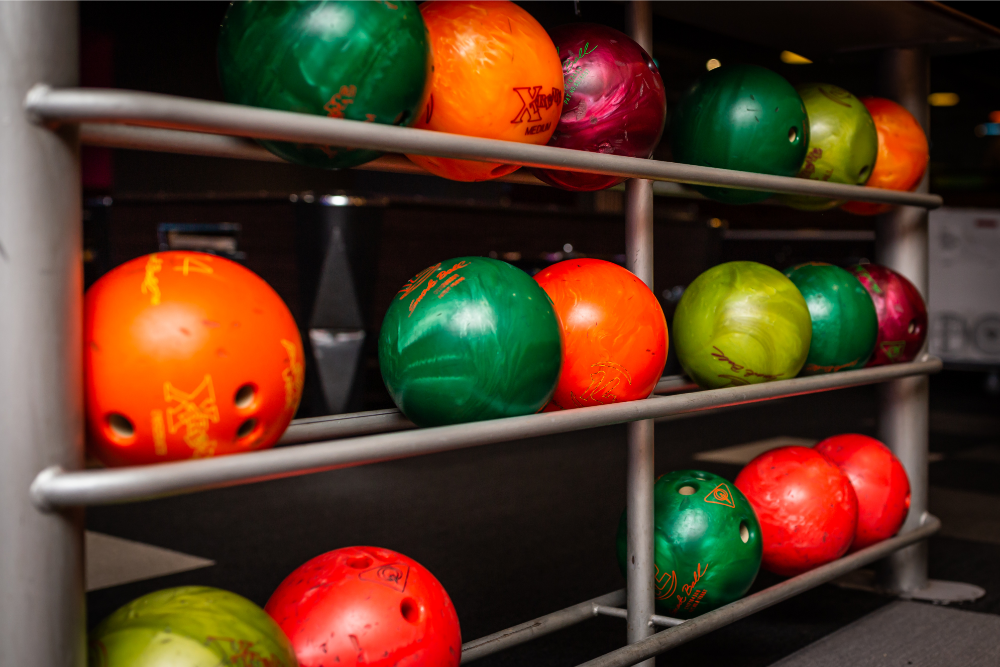 Privacy Policy
Please make sure you have read our Terms and Conditions, Website Terms of Use, Privacy Policy and Cookie Policy before proceeding with your booking.
It is essential to note that refunds and cancellations cannot be made to online bookings apart from in exceptional circumstances. We require full payment for advanced bookings so that we can secure your bowling lane.
Tenpin Limited (Company Number: 04789703) is one of the UK's leading operators of state-of-the-art bowling centres. When we refer to "Tenpin" or "we" or "our" or "us", we are referring to Tenpin Limited, and its subsidiaries and holding companies and the subsidiaries of such holding companies (as such terms are defined in s.1159 Companies Act 2006), or any of them, as the context requires.
Your privacy is extremely important to us so we want you to know exactly what kind of information we collect about you and how we use it.
We'll always treat your personal information with the utmost care and we never sell them to other companies for Marketing purposes.
Please take the time to read and understand this policy. And bear in mind that by using our website, contacting us by telephone, or by providing information to us in our centres or by way of social media, you agree to its terms.
When we refer to "personal information" in this privacy policy, we mean information that identifies you as an individual, or is capable of doing so (including but not limited to a first and last name, a home address, an email address or other contact information).
This policy (together with our Website Terms of Use and Terms & Conditions - and any other documents referred to in those terms) sets out the basis on which any personal data collected from you, or that you provide to us, will be processed by us.
If you have any queries or requests at any time concerning your personal information held by us or our practices in this regard, please write to our Data Protection Compliance Officer at Aragon House, University Way, Cranfield, Beds MK43 0EQ or email: [email protected]
We store personal information from you and process your personal information when you register yourself on the Tenpin website, book bowling or make other purchases via our website, enter into any of our competitions or promotions, submit a customer review or correspond with us at any time.
When you enter one of our prize competitions we will also collect your name (as far as available on social media), social media handle, competition entry (which could include a photograph, and any caption attached to it); and the images of anybody included in the photo(s) submitted as competition entries. Additionally, we will collect the winner's full name and any other details we require to send the prize to the winner (such as bank details).
When you visit our website, we also collect information automatically from your computer such as browsing patterns, but information collected in this way is only used in aggregate and anonymous form rather than being linked to identifiable individuals.
We collect information in a number of different ways:
By submitting forms, for example when you sign up to news or a competition.

By sending us emails and text messages (Mobile text SMS or Multimedia Messaging Service, MMS).

By interacting with us on social media platforms such as Facebook or Twitter etc.

By submitting photograph entries to us or by uploading a photograph entry and tagging us on social media as part of a prize competition or prize draw.

By talking to us in our centres or over the telephone. For example, when making a purchase or complaint.

By registering accounts on our websites including setting up passwords and contact details, account details, details of friends and relatives and your preferences.

Full details of the purchases you make on our websites and in our centres. These include the time, date and location of purchase, the products you buy from us, any vouchers or alternative means of payment you may use, as well as relevant payment cards such as a credit, debit card or PayPal.

Information on what you view, click on and access by way of our marketing emails and text messages (SMS or MMS), websites. We also gather this kind of information when you use the WIFI network in our centres to access the internet. We may collect the time and geographic location of your device when you do so. For websites, this information may also include where you came to our site from, and where you went when you left it. We also track how often you visit and use our websites. We do this via email and website cookies and similar tracking technology built into sites. We make cookie policies available on our website to give you more detailed information on how we use them. The cookie policy for this website is set out here.

Technical information about the devices you use to access our websites and mobile apps. We also collect this detail when you use our in-store WIFI networks to access the internet. We specifically save each device's unique identifying codes (MAC address or IMEI number) device model, device name, relevant IP address, operating system and version, web browser and version, and geographic location.

Your social media content where this is in the public domain, and any messages you send direct to us via social media. This information can include posts and comments, pictures and video footage on sites such as YouTube, Facebook and Twitter. You should always review the terms and conditions and privacy policies of the social media that you use to make sure you understand what kind of information relating to you may be out there in the public domain and how you can stop or limit it from happening.

Profile information and insight from organisations that already hold information on you, such as credit reference agencies and 'customer insight companies'. They give us their views on your household, your status, as well as your possible preferences and behaviours.
This information includes the likely makeup of your household (e.g. how many children you may have and their likely average age) and what your household affairs may be like, the type of car you may drive, your interests (including the kind of magazines and newspapers you may read, where you might go for your holidays and whether you're environmentally conscious or not) and where you're likely to shop. It also includes observations about your likely education and employment status, the type of job you may have and your likely financial status (including your mobile phone expenditure, what credit, debit and other cards you may hold, your current account status and any loans, investments and savings you may have). It also places you into one or more defined behavioural and socio-economic groups.
Information collected independently by online advertising networks (Google for example) through which we place advertisements. The information we get from them varies from network to network. It often summarises the actions of lots of people, and so does not allow us to identify you individually. It relates to what you view, click on and access through websites in their network, including the subject matter of the site you started at and which sites you go to after that. It may also include their analysis of your online behaviour across the wider internet and a profile of you. If you're not happy about this, you should look for 'settings' and Do Not Track options in online advertisements and in the privacy and cookies functions on your devices. You should also consider changing your settings to block third-party cookies in particular. Tenpin Ltd does not control these cookies and we suggest you check these third-party websites for more information about the cookies they use and how you can manage them.
To comply with GDPR standards, you can request the Right to be Forgotten, by completing the form here.
We use personal information collected from you for the following purposes:
To respond to an enquiry made by you

To improve your online experience and to personalise your visits by storing information about your preferences
To enable you to partake in a prize draw, competition or complete a survey.

To enable you to judge one of our prize draws or competitions.

To enable us to send out the prize from our competitions.

To improve our products and services and those of our suppliers.

To notify you of special offers and promotions from carefully selected third parties that we believe will be of relevance based on the type of activity and location.

To process your online bowling bookings and any other transactions you make via our website

To contact you from time to time regarding things you've told us you want to hear about; new products, for example, or special offers, exciting competitions and promotions. If you stop using

our services, we may try and introduce ourselves back to you.

To get feedback from you about our products, websites, and other services and activities. For

example, occasionally we may invite you to review a product or service you've bought or used from us. If we do, it's possible that we'll use independent research and feedback providers to act on our behalf.

To respond to any social media posts or other public comments you might make, whether they are directly to us or about us, our products, websites, services or other activities.

To advertise products or services to you for example on your favourite social media sites (e.g. Facebook). Please note that these may be in the form of a link to a website.

To ensure Tenpin adverts you see on different websites are more relevant to you, we'll now provide some anonymous information about you and your shopping habits to the organisations who place our online advertising. We gather this information from your purchase history, website cookies and other similar technologies. It is then combined with data from other internet users to create audience profiles consisting of particular interests and characteristics. These audience profiles are used by our online advertisers to serve you adverts that are relevant to you and your interests. For more information on the types of data used for this purpose please see our Cookie Policy.

To gather statistics about how you and other people use our website, our WIFI networks and what you think of our advertisements, special offers, news, products and product information, competitions, sponsored events, social media and other content and services. We then analyse all this data to see if what we do is interesting to people and meets their needs, or if they should be improved and if so, what changes would be most beneficial both for our customers and for us.

To monitor how people use our websites to see if they are being abused or threatened, for example, by internet trolls posting inappropriate comments in review areas or by would-be hackers looking to undermine our security.
Our aim, quite simply, is to interest and excite you as much as possible while providing great service and value to you in everything we do.
By knowing more about you, we're able to focus on the things we think are most likely to appeal to you, especially when we send you special offers, news, information on our products and details of competitions and sponsored events.
Generally, we will only use your information within Tenpin. However, sometimes we use third parties to process your information on our behalf. Tenpin requires these third parties to comply strictly with our instructions and when we share your information, we want you to know that we only do so in accordance with our legal data protection and privacy obligations.
Your information may be disclosed to:
People who help us provide our websites, WIFI networks, email services and related services to you. They include information technology experts who design and host our websites, and payment services, companies that make it easy for you to use your credit or payment cards with us. Other examples include market research companies, marketing, advertising, design and PR organisations and general service companies such as printers, mailing houses and form-scanning service providers.
People who request information to prove that a valid award took place following a prize draw.

Independent judges which we are required to have on our judge panel for prize draws or competitions.

Partners or companies in order to arrange the supply or delivery of prizes from our competitions.

Social media companies such as Facebook and Twitter, and our advertising partners to enable us to run targeted promotions for you on their platforms;

Rewards companies which you have signed up to, in order for you to receive the rewards and benefits they offer when you shop with us.

Any new business partners we may have over time, for example, in the event of a joint venture, reorganisation, business merger or sale that affects us.
We may also share the information we collect where we are legally obliged to do so, e.g. to comply with a court order.
Any social media posts or comments you send to us (on the Tenpin Facebook pages, for instance) will be shared under the terms of the relevant social media platform (e.g. Facebook or Twitter) on which they're written and could be made public. Other people, not us, control these platforms. We are not responsible for this kind of sharing. So before you make any remarks or observations about anything, you should review the terms and conditions and privacy policies of the social media platforms you use. That way, you'll understand how they will use your information, what information relating to you they will place in the public domain, and how you can stop them from doing so if you're unhappy about it. We use a Facebook pixel for marketing purposes. You can find out more information about this in the cookie policy section.
It's worth remembering too, that any blog, review or other posts or comments you make about us, our products and services on any review or user community services will be shared with all other members of that service and the public at large.
You should take extra care to ensure that any comments you make on these services, and on social media in general are fit to be read by the public, and are not offensive, insulting or defamatory. At the end of the day, you are responsible for ensuring that any comments you make comply with any relevant policy on acceptable use of those services.
When you visit our website, we may send you cookies. A cookie is a small text file that can be placed on your computer's hard drive. A cookie will typically contain the name of the domain from which the cookie has come, the "lifetime" of the cookie, and a value, usually a randomly generated unique number. Three types of cookies are used on our website:
Session cookies - these are temporary cookies that remain in the cookie file of your browser until you leave our website. These allow you to carry information across pages of our website and avoid you having to re-enter information.

Persistent cookies - these cookies remain in the cookie file of your browser for much longer (though how long will depend on the lifetime of the specific cookie). These help us to recognise you as a unique visitor (just a number) when you return to our website and allow us to tailor content, advertisements and the presentation of our website to match your preferences.

Third party cookies - third parties serve persistent cookies via our website site. These are used to compile anonymous, aggregated statistics in order to serve advertisements on our website and track whether these advertisements are clicked on by users, to control how often you are shown a particular advertisement, to count the number of anonymous users of the website and to provide security within transactions.
Our cookies cannot be used by themselves to identify you. You have the ability to accept or decline cookies by modifying the settings in your browser. However, you may not be able to use all the interactive features of our website if cookies are disabled. You may disable cookies through your browser by following the instructions found at: www.allaboutcookies.org/manage-cookies.
Unless you have adjusted your browser setting so that it will refuse cookies, our system will issue cookies when you arrive at our site.
For our full Cookie Policy please click here.
The information that we collect from you may be transferred to, and stored at, and processed at a destination inside the European Economic Area ("EEA"). We will take all steps reasonably necessary to ensure that your information is treated securely and in accordance with this privacy policy. By disclosing your personal information to us you consent to this transfer.
Unfortunately, the transmission of information via the Internet is not completely secure. Although we will do our best to protect your personal information, we cannot guarantee its security, any transmission is at your own risk. Once we have received your information, we will use strict procedures and security features to try to prevent unauthorised access.
We do not collect information with a view to selling it to unconnected third parties. However, in the unlikely event that any of the assets of Tenpin were sold to a third party, details of our customers would be passed on to that third party as a part of the sale of the business.
We may also disclose your personal information to third parties if we are under a duty to disclose or share your personal information in order to comply with any legal obligation, or in order to enforce or apply our Terms of Use (namely our Website Terms of Use, Terms & Conditions, Privacy Policy & Cookie Policy) or to protect our rights, property or safety or the rights, property or safety of our customers or others.
To make sure we meet our legal data protection and privacy obligations, we only hold on to your information for as long as we actually need them for the purposes we acquired them in the first place (as set out above).
In most cases, this means we will keep your information for as long as you continue to shop with us or use our services, and for 3 years afterwards if you stop doing so, to see if we can persuade you to come back to us.
After that we will either delete it or anonymise it so that it cannot be linked back to you.
We provide ways for you to stop all email and text (SMS or MMS) communications you receive from us - please see the 'unsubscribe' link and 'STOP' details we include in each email and text message respectively.
You can also change your preferences on the Preference Centre on the Tenpin website or contact us at any time using the details below and let us know exactly what you would like us to change.
You are perfectly within your rights to ask us whether we hold information about you and if so, for us to give you certain details about that information and/or the information itself. This right is commonly known as a 'Subject Access Request'. Please address any such requests to our Data Protection Compliance Officer at Aragon House, University Way, Cranfield, Beds MK43 0EQ. To request all the information Tenpin has on you, please submit a Subject Access Request Form here.
If you believe that any information we hold about you is incorrect or incomplete, you should write without delay to our Data Protection Compliance Officer. Any information that is found to be incorrect will be promptly corrected.
Tenpin makes a special effort to encourage children to consult with their parents before disclosing personal information via our website. However, it is ultimately the responsibility of parents to supervise their children's online activities and should consider using parental control tools available from online services and software manufacturers that help provide a child-friendly online environment. These tools can also prevent children from disclosing their name, address and other personal information online without parental permission.
Tenpin shall use its reasonable endeavours, whenever possible, to ensure that personal information about or obtained from a child will not be used for commercial or trade purposes and that personal information will not be collected from children under 12 without the prior written consent of their parent or legal guardian.
Please click here to download the Job Applicant Privacy Policy.
Where to Go if You Want More Information About Your Privacy Rights
The Information Commissioner's Office (ICO) regulates data protection and privacy matters in the UK. They make a lot of information accessible to consumers on their website and they ensure that the registered details of all data controllers such as ourselves are available publicly. You can access them here   https://ico.org.uk/for-the-public/.
You can make a complaint to the ICO at any time about the way we use your information. However, we hope that you would consider raising any issue or complaint you have with us first. Your satisfaction is extremely important to us and we will always do our very best to solve any problems you may have.