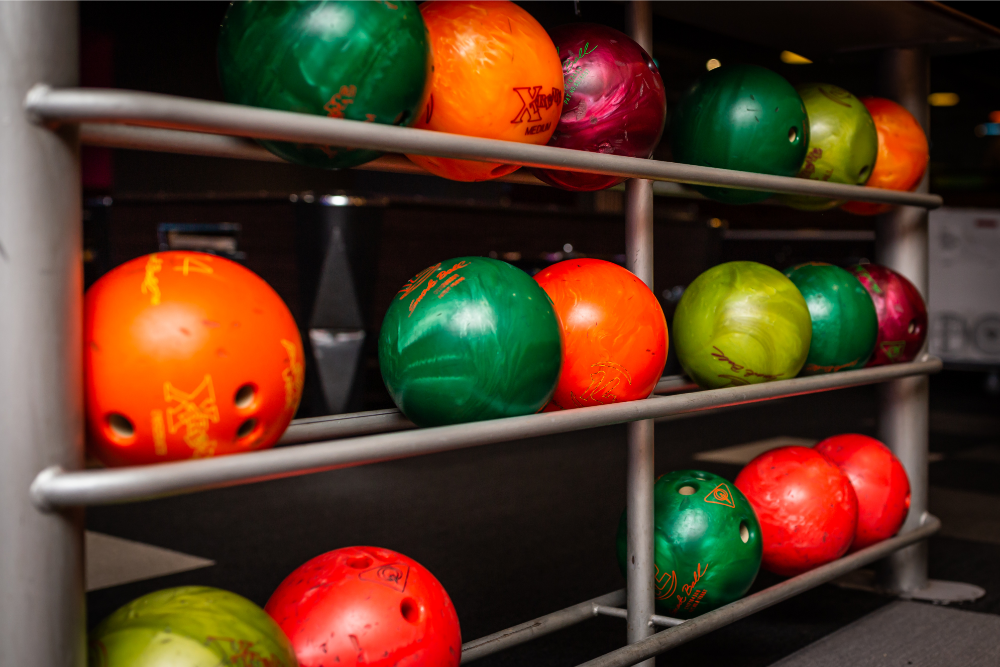 Website terms of use
Please make sure you have read our Terms and Conditions, Website Terms of Use, Privacy Policy and Cookie Policy before proceeding with your booking.
It is essential to note that refunds and cancellations cannot be made to online bookings apart from in exceptional circumstances. We require full payment for advanced bookings so that we can secure your bowling lane.
This Site (www.tenpin.co.uk) is owned by Tenpin Ltd. The use of the Site is strictly subject to these website terms of use ("Website Terms of Use"). Please read these terms carefully before using the Site.
By using the Site you indicate that you accept the Website Terms of Use and that you agree to abide by them. If you do not agree with any of these terms, please exit the Site immediately. We reserve the right in our sole discretion to amend or otherwise update these terms at any time without notice. Your continued use of the Site shall mean you agree to be bound by these terms as amended or otherwise updated. We collect and process information about you in accordance with our Privacy Policy and Cookie Policy which forms part of these Website Terms of Use.
1.1 Access to the Site is permitted on a temporary basis, and we reserve the right to withdraw or amend the service we provide on the Site without notice. We will not be liable if for any reason the Site is unavailable at any time or for any period.
1.2 You are solely responsible for any username or password that you select at the time that you register an account through the Site and you must not share your password with anyone else.
2.1 All materials on the site and all intellectual property rights in the Site are owned and/or controlled by Tenpin Ltd. All material on the Site are protected by copyright. Permission is granted only to electronically copy and/or print in hard copy portions of the Site for personal non-commercial purposes. Any other use of the materials on the Site (including but not limited to making such material available on any other website, online service, bulletin board or networked computer environment) is strictly prohibited.
2.2 All trademarks, service marks, trade names, branding and logos on the Site identifying Tenpin, its licensors and/or their products and services are subject to copyright, design rights and trademarks owned by Tenpin and/or its licensors. Nothing contained in these terms of use shall be construed as conferring by implication, estoppel or otherwise any licence or right to use any trademark, design right or copyright of Tenpin or its licensors. Please note that Tenpin will always seek to protect and enforce its intellectual property rights to the fullest extent permitted by law.
2.3 If you print off, copy or download any part of the Site in breach of these terms of use, your right to use the Site will cease immediately and you must, at our option, return or destroy any copies of the materials you have made.
3.1 The Site may include links to other websites that may be of interest to you. We do not endorse or approve and have no responsibility for the content of any website to which the Site links including but not limited to any advertising, marketing, promotions, products or services available from such websites, nor for any loss caused by the use of or reliance on the content of such external websites.
3.2 No authority is given (expressly or implied) by us or the contributors to the Site to deep link to or to frame any of the content that appears on the Site or to use any representation of any of the trade marks, service marks, trade names
4.1 Commentary (including but not limited to customer reviews) and other materials posted on the Site are not intended to amount to advice on which reliance should be placed. We therefore disclaim all liability and responsibility arising from any reliance placed on such materials by any visitor to the Site, or by anyone who may be informed of any of its contents.
5.1 Whilst Tenpin has taken reasonable precaution and care in compiling the Site, we do not make any representations or warranties of any kind (expressly or implied) with respect to the content or operation of the Site and any such representations and warranties are excluded by this notice. We do not warrant that use of the Site will be uninterrupted or error free.
5.2 Your use of the Site and the materials contained in it are done so entirely at your own risk. Tenpin does not accept any liability for losses or damages, whether direct or indirect, that you may suffer as a result of your use of the Site or your reliance on the content of the Site including but not limited to opening times, computer service or system failure, access delays or interruption, data non-delivery or mis-delivery, computer viruses or other harmful components, breaches of security or unauthorised use of the system arising from "hacking" or otherwise.
5.3 The Site is made available on the basis that all liability whatsoever for any loss or damage arising out of or in connection with your use of the Site, or reliance on the content of the Site, is excluded by us to the fullest extent permitted by law.
5.4 Any typographical, clerical or other error or omission in any page posted on the Site shall be subject to correction or deletion (as appropriate) without any liability on our part. We aim to update the Site regularly and may change the content at any time. Any of the material on the Site may be out of date at any given time, and we are under no obligation to update such material.
6.1 You agree not to use the Site (or any part of it) for any illegal purpose and agree to use it in accordance with all applicable laws. You agree not to upload or transmit through the Site any computer viruses, trojan horses, worms or anything else designed to interfere with, interrupt or disrupt the normal operating procedures of a computer. You will not upload or transmit through the Site any material that is defamatory, offensive or of an obscene or menacing character, or that may cause annoyance, inconvenience or needless anxiety. You will not use the Site in any manner that violates or infringes the rights of any person or company (including but not limited to rights of intellectual property, rights of confidentiality or rights of privacy). You agree that violation of any of these obligations may result in us terminating your access to the Site.
7.1 Whenever you make use of a feature that allows you to upload material to the Site, or to make contact with other users of the Site, you must comply with the content standards set out in our Website Terms of Use. You agree that any use or contact complies with those standards, and you indemnify us for any breach of that agreement.
7.2 Any material you upload to the Site will be considered non-confidential and non-proprietary, and we have the right to use, copy, distribute and disclose to third parties any such material for any purpose. We also have the right to disclose your identity to any third party who is claiming that any material posted or uploaded by you to the Site constitutes a violation of their intellectual property rights, or their right to privacy.
7.3 We have the right to remove any material or posting you make on the Site if, in our opinion, such material does not comply with the content standards set out in our Website Terms of Use.
8.1 You agree to indemnify, defend and hold Tenpin, its licensors, affiliates, officers, agents and other partners and employees harmless from any and all loss, liability, claim or demand made by a third party due to or arising out of your use of the Site. Tenpin reserves the right, at its own expense, to assume the exclusive defence and control of any matter otherwise subject to indemnification by you, and in such case, you agree to fully co-operate with Tenpin's defence of such claim.
9.1 Please note that nothing in these terms of use shall affect your rights under the law, nor operate to exclude or limit our liability for fraud or for damage resulting from our negligence.
9.2 The content of the Site, any dispute arising out of the Site and your relationship with us is governed by English law and you agree to submit to the non-exclusive jurisdiction of the courts of England and Wales. The Site is operated from the UK.
9.3 "Site" means each of Tenpin's websites and applications from time to time, including but not limited to:
www.tenpin.co.uk (and its sub-domains)
www.facebook.com/TenpinUK
www.twitter.com/Tenpin_Bowling
www.instagram.com/tenpin_uk
www.tiktok.com/@tenpinuk
www.tenpin.co.uk/tenpin-app
Tenpin Limited is incorporated in England and Wales with company registration number 04789703. Its registered office is located at Aragon House, Cranfield Technology Park, Cranfield, Bedford, England, MK43 0EQ