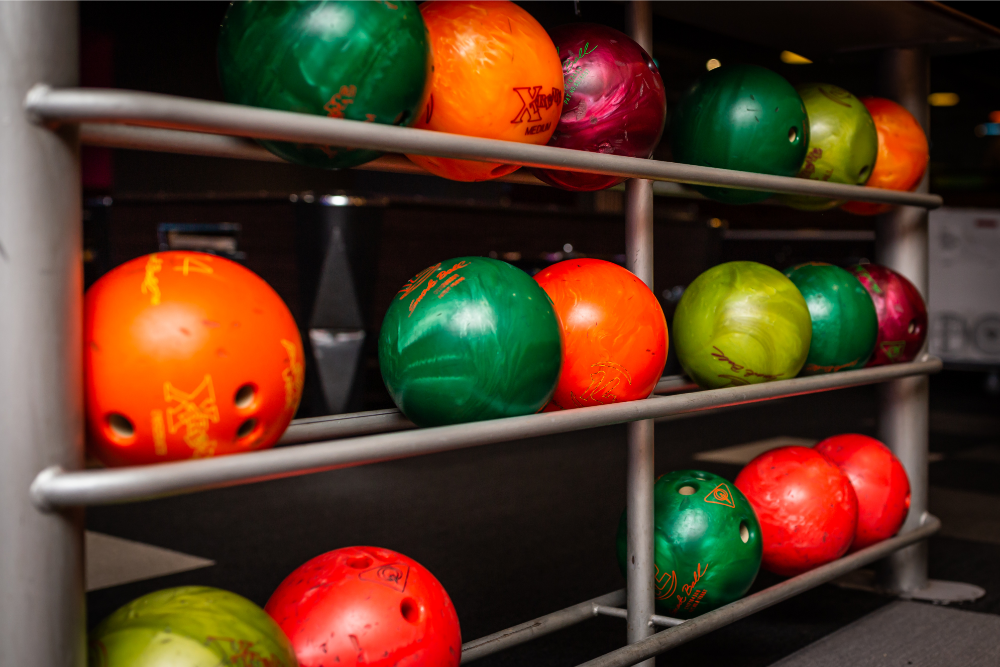 Terms and Conditions
Please make sure you have read our Terms and Conditions, Website Terms of Use, Privacy Policy and Cookie Policy before proceeding with your booking.
It is essential to note that refunds and cancellations cannot be made to online bookings apart from in exceptional circumstances. We require full payment for advanced bookings so that we can secure your bowling lane.
Tenpin would like to inform all of our customers that we are monitoring Governmental advice at all times regarding Covid-19 and will continue to work within the guidelines of that information.
Customers and team member's safety is our number one priority in delivering the very best of hygiene standards within our centres.
As part of our normal daily operations, our team members are trained to ensure all high hand-contact areas including (but not limited to) bowling balls, amusement machines, door handles, toilets and food and beverage areas are regularly cleaned throughout the day. We monitor this through our digital checking platform to ensure your visit to Tenpin is a safe and pleasant one.
The Government guidelines primary advice focuses on hand washing regularly and our teams ensure that our hand wash facilities are readily stocked and available at all times. In addition, we have increased our frequency of checks and have placed hand sanitation gel at all of our reception points.
Any team member who is concerned that they have symptoms of Coronavirus (COVID-19) is encouraged to follow the Government guidelines regarding self-isolation.
We are continuing to closely monitor the situation and follow government guidelines to ensure we are taking precautions to safeguard our customers and team and to keep our bowling centres open for your entertainment. We will ensure we keep you up to date on any changes in this circumstance.
If you want to talk to us about the website or any queries relating to your booking please call 0871 222 36 75.  Our lines are open 7 days a week, between 9am - 10pm. Calls cost 13p per minute, plus your phone company's access charge.
If you would like to write to us please direct correspondence to:
Tenpin Ltd
Aragon House,
University Way,
Cranfield Technology Park,
Cranfield,
Bedfordshire,
MK43 0EQ.
Our aim is always for you to enjoy your bowling experience and we make every effort to get feedback from customers to help us continually improve. Where this has not been the case we will listen and take action as appropriate to each individual customer's circumstances.
All bowling prices are inclusive of VAT at 20%. The price includes free bowling shoe hire, although you may wear your own shoes in our centres if you wish. Any drinks, snacks, meals and arcade games are not included in the standard price and must be paid for separately as consumed or used. Deals such as the Eat & Play package are inclusive of food. Please check the deals section for more information.
Online Bookings may be made up to 6 months in advance. Online bookings can be made for up to 30 people. For groups larger than 30 contact our team of specialist advisers on 0871 222 36 75. Our lines are open 7 days a week, between 9am - 10pm. Calls cost 13p per minute, plus your phone company's access charge. Please note that a booking fee of £1.95 applies to all bookings made over the telephone. Online bookings do not incur any booking / admin fees.
All of our children's bowling packages and deals are available to ages 16 and under and do not apply to adult bookings. Only those who are actively playing bowling are required to pay for lane use.
We regularly review our prices and if you make a booking in advance, the paid price will remain the same, and is not subject to increase or decrease.
Tenpin strictly forbids the selling on of bowling at an increased price by any third party. In such cases bookings will be automatically void with no refund.
Adult & Junior Rates Explained
Adult prices displayed are for persons 17 years or over
Junior prices displayed are for persons 16 years or under
Concession Rates
Adult and Child Concessions: Only valid Weekdays in school term and school summer holidays. Prices are per person and may vary by site.
It is the policy of the company to consider the access needs of persons with disabilities to the services and facilities of the company, to make reasonable adjustments to facilitate such needs and to provide appropriate training and information to relevant employees to ensure that these stated aims are met.
The company aims to:
Be an outstanding provider of Tenpin Bowling and leisure services to all our customers, offering excellent facilities, customer service and value to each and every visitor to our Family Entertainment centres.
Recognise the diverse requirements of people with disabilities, aiming always to understand and meet individual needs and provide help and guidance whenever it is required.
Recognise the commercial contribution made to our business by customers with disabilities. Many such customers enjoy our facilities and desire access to them and it is therefore in the company's commercial interest to ensure access is available wherever possible.
Provide information on our website, which contains details of all our family entertainment centres and services and is fully accessible.
Provide relevant employees with appropriate training to ensure the company meets the needs of individuals with disabilities, so that customers with disabilities are treated no less favourably than other customers for a reason related to their disability.
Recognise the requirements of the Disability Discrimination Act 1995 and the company shall ensure that reasonable adjustments are made to our Family Entertainment Centre to ensure the removal of physical barriers to access our services and facilities for all of our customers.
Food purchases made online, whether as part of the inclusive meal deal packages or as an additional 'Add-on' purchase, will be confirmed upon arrival then brought to your lane.
Products offered are subject to availability and an alternative option may be offered.
Alcohol purchases made online will be validated when you check-in and proof of age will be required. Suitable forms of proof are a valid drivers license, provisional driving licence or passport.
Purchases made by, or for under age drinkers will not be refunded.
Tenpin Ltd promote sensible drinking - please visit www.drinkaware.co.uk for more information.
Full payment is required for all online bookings in advance, at the time of booking your bowling experience. Please note that we currently only offer pre-booking of bowling only online. All other activities listed on our website can otherwise be pre-booked through our call centre or by visiting your local Tenpin directly.
Online bookings and any subsequent payments made to Tenpin Ltd are strictly non-refundable and cannot be cancelled.
Please note that a booking fee of £1.95 applies to all bookings made over the telephone. Online bookings do not incur any booking / admin fees.
Tenpin Limited reserves the right to cancel, amend, change or withdraw any offer or promotion at any time. 
All Tenpin centres - Please note that due to licencing laws, no one under the age of 18 is allowed in Tenpin after 9:00pm unless accompanied by an adult. When booking a game of bowling, an adult player must be included. 
Tenpin Ltd offer a standard no refund policy on all bookings made, either by walk-in, call centre or online. If you wish to cancel your booking, you will not be offered a refund, this includes the booking fee when booking over the phone.
If you have a complaint to raise about your experience online, from our call centre or your local Tenpin centre, please get in touch with us directly from our contact page.
Please note that our online booking system allows up to a maximum of 24 people to book in a single booking. We recommend bookings of 24 people or more to be made with our party specialists, who can tailor the most appropriate experience for your party.
Please call 0871 222 36 75 to get a tailored package. Our lines are open 7 days a week, between 9am - 10pm. Calls cost 13p per minute, plus your phone company's access charge.
Birthday Parties at Tenpin
Phone Bookings: To reserve your lanes with our call centre, a non-refundable £5 deposit per child will be required (minimum of 6 children needed to book Birthdays in advance) at the time of booking. The remaining balance must be paid no later than 7 days prior to the date of your party booking.
Online Bookings: Full payment is required for all Birthday Parties booked online. No booking fees apply.
In the event of cancellation after paying your party balance, all monies are non-refundable but the party can be re-booked within 6 months of the original date.
Birthday Parties require a minimum party size of 6 children all of whom must be under 16 years of age.
The management regret that they cannot accept responsibility for groups of children, therefore it is requested that two parents, guardians or responsible persons aged 18 or over are present for every group of 6 children for the duration of the Birthday Party to ensure you have the most enjoyable experience possible.
All birthday packages are subject to availability.
Tenpin draw the attention of party organisers to the fact that bowling balls, if handled incorrectly or dropped, could be a danger to children.
It is the responsibility of the party organisers (parents or guardians) to ensure that children are supervised in such a way as to avoid the possibility of any accident or injury from this cause or any other.
The party organiser needs to provide the birthday cake for presentation to the Birthday Child.
Birthday food and any meals ordered are delivered to the lanes you have pre-booked, some centres will have space for dedicated tables to be arranged.
Adult and Corporate Party Bookings
We have a range of options for adult and corporate parties. Take a look at our party packages pages online, or give us a call on 0871 222 36 75 to speak to a party specialist. Our lines are open 7 days a week, between 9am - 10pm. Calls cost 13p per minute, plus your phone company's access charge.
To allow for collection of your bowling shoes and preparing for bowling, we recommend arriving at the centre approximately 15 minutes before your start time, (starting 15 minutes after site opening time).
Please have your booking confirmation ready when arriving at Reception. Late arrivals may not be able to bowl and could lose the total amount paid. Please leave plenty of time for your journey.
We have structured our website so you can visit us and obtain information easily. Once you choose to provide us with any information by which you can be identified, you can be sure that it will only be used in accordance within the data protection laws.
Once you've made a booking with us, you will receive an automatic booking confirmation via email and may also receive an email requesting feedback about your visit.
If you have consented to receive marketing emails, this will include Tenpin news, location updates and offers. You can unsubscribe from marketing emails at any time by clicking the 'unsubscribe' link shown at the bottom of any marketing email.
We do not share your electronic information with any third party unless you have explicitly stated you are happy for us to do that.
Valid Sunday 6pm to Friday 5pm at selected Tenpin centres.
Email links expire 1 month after you receive the voucher from Tenpin, Ltd.
2 For 1 promotion for repeat customers will be issued after each visit at select Tenpin centres by email.
2 For 1 promotion from printed flyers are valid until the end date printed on the physical voucher.
Offer and lanes subject to lane availability.
Maximum of 6 people each purchasing 1 game of bowling at full standard rate tariff.
Free and paid for games must be played consecutively.
Tenpin Ltd reserves the right to withdraw or amend the offer at any time.
Management decision is final.
Cannot be combined or used in conjunction with any other offer or discount.
The customer feedback '2 for 1' offer is valid every day except Saturdays and Bank holidays, at Tenpin locations nationwide.
Paid for and free game must be played consecutively.
Vouchers will expire one month after the issue date.
Vouchers will give a free game when purchasing one game of bowling at standard tariff, valid for up to six people.
Cannot be combined or used in conjunction with any other offer or discount.
Offer subject to lane availability.
Entries of the promotion must enter valid contact details.
Eligible customers will be sent a '2 for 1' voucher within 7 days via email.
The voucher is as stated in the correspondence with no cash alternative in whole or in part and is non-transferable, not for resale and cannot be exchanged, assigned or redeemed for cash.
Tenpin Ltd reserves the right to withdraw or amend the offer at any time.
Management decision is final. 
Sector 7 laser features UV lighting, strobe lighting and smoke machines. Customers with poor eyesight, heart conditions or epilepsy are not permitted in the arena.
Players must be over 4ft in height to play. Children aged under 6 are granted access at management's discretion provided they are over 4ft in height.
Groups who are under 16 years of age are requested to have a responsible person aged 18 or over present. Management reserves the right to refuse admission at any time.