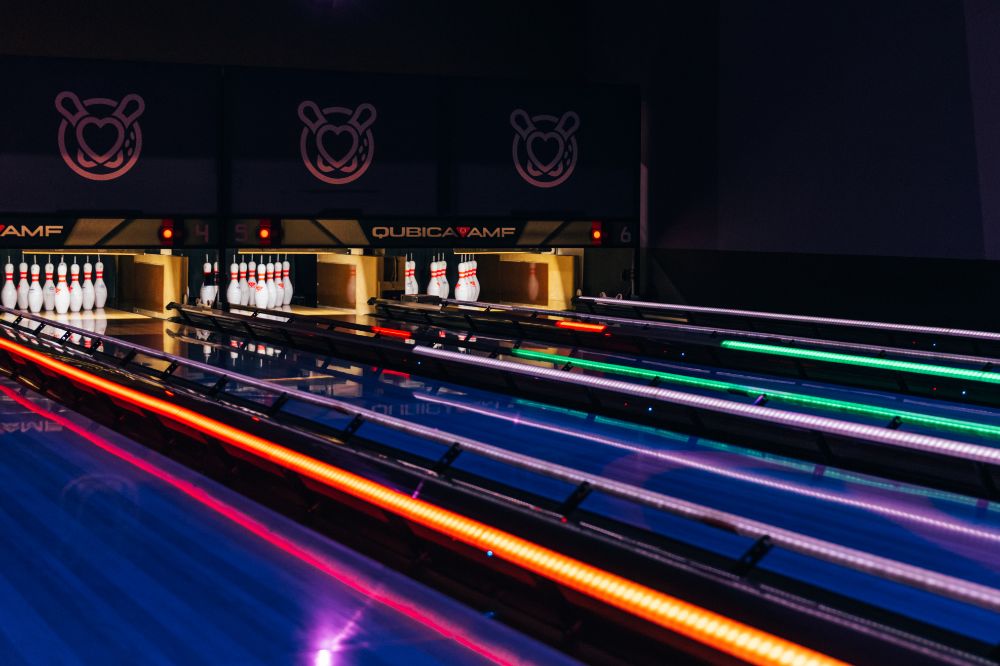 HyperBowling - the new craze in the UK
HyperBowling is the new craze in the UK. It's the new way to bowl and perfect for those who always seem to end up in the gutter! 
With HyperBowling, the aim of the game is to bounce off the LED coloured bumpers to score extra points before hitting those pins. Great if you can't bowl straight.
Anyone can play and WIN with HyperBowling no matter your bowling skill. 
There are many game types to choose from and its an ideal choice when playing in groups.  
HyperBowling Game Instruction Videos
Enjoy a great way to score in bowling - aiming for the bumpers!

Play from four different exciting games and score extra points by bouncing off the bumpers.
Hyper Squad Instruction Video
Watch this video on how to play the Hyper Squad game. Choose your teammates carefully with Hyper Squad. Each one of you will be responsible for claiming more and more of the bumpers that change to your team colour when you hit them. But watch out for the opposition who can invade and steal your area. Good aiming is essential as your score is increased with the more pins you knock down. Just don't miss and forfeit bumper space and points to your opponents.
Hyper Active Instruction Video
Feeling active? Enjoy the fun and friendly Hyper Active game where you aim for the coloured bumpers before knocking down the bowling pins. Watch this video on how to play the Hyper Active game, but watch out for that red bumper - hit 'Buster' and you'll get a big zero on your score, boo.
Hyper Bowl Pro Instruction Video
Go Pro if you dare and play Hyper Pro. This instruction video will tell you everything you need to know about what to expect from Hyper Bowl Pro.
Feel like you've mastered HyperBowling? Then go Pro with Hyper Bowl Pro. Bowl with precision as the coloured LED bumpers move as you try to hit the right colours that will increase your score. Miss and hit the red instead and you'll feel the pain as you watch your score go down the drain! Take on the challenge and try to unlock more levels and announce yourself as a Champion of Hyper Bowl Pro.
Book your HyperBowling session by using the 'Quick Book' menu at the top of this page. Simply select 'Activities' and then choose HyperBowling to experience the evolution of bowling today.