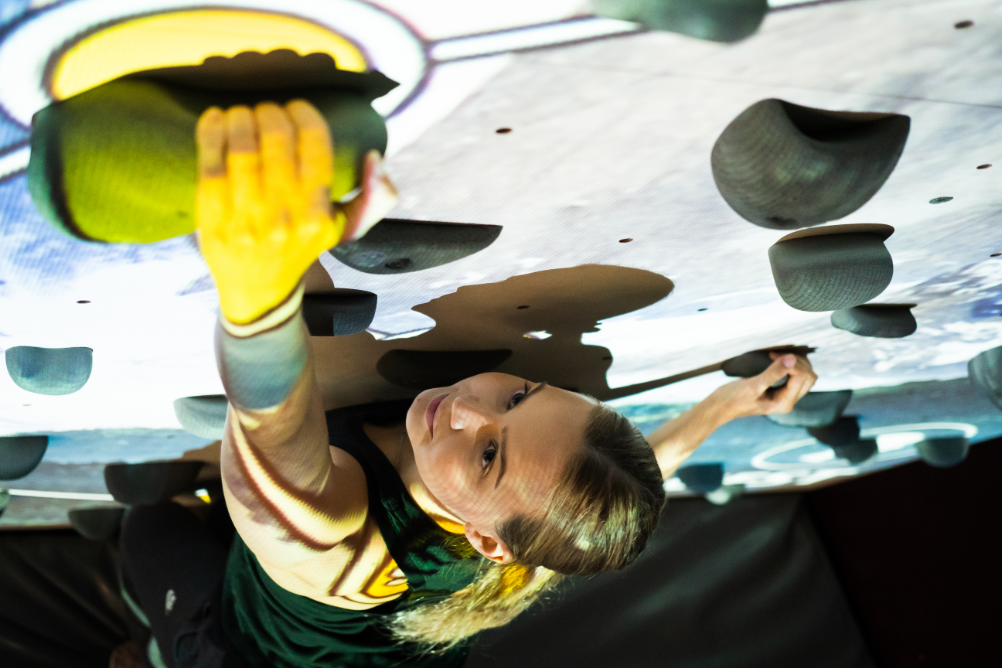 Climb at Tenpin
You can't miss the ValoClimb Augmented Reality climbing wall at Tenpin!
The augmented reality wall allows players to interact with the projected image and enjoy different game types that will test your skill, precision, and stamina. 
Even better, it only costs £1.00 per play, and the machines are coin operated. 
How to Play 
There is no need to book online, just head straight to Tenpin and have fun! If you have any problems getting started, then be sure to speak to a member of our friendly staff who will be more than happy to help you.
Climb here
Game Types
Whether you want to attack or defend your wall or test yourself, there are many game types to choose from. Read about them below to see which one you want to try first.
Augmented Problems
Have you ever wanted to climb different mountains around the world? Now it's possible, as we added new stunning views, like Fuji or Yosemite. It might not be the same as climbing a real mountain, but quite close to it!
Sparks
Getting hit by electricity has never been so fun! Now you can climb on a futuristic circuit board and try to avoid the electricity. Did you get burned? Check your score marks on the wall and try again.
Astromania
Saving the world from asteroids has never been so much fun. Come and enjoy an immersive new deep-space experience with Astromania. Don't miss the satellites orbiting the earth, they will save your day by destroying all visible fireballs.
Whack-A-Bat
Our charming bat has new places it likes to visit regularly. New themes include a summer beach - where the bat arrives wearing a snorkel and a pair of flippers. All our classic backgrounds, like Halloween, Christmas and birthdays, are of course still available.
Flash
Did you know that climbing will be in the Olympic Games? Flash is our version of speed climbing that challenges everyone for fun and fast-paced game. If you look closely, you will notice that the background of the game is moving and flows to the direction of the next mark on the wall.
Climball
Climball has stayed in its original form. Why change something that has sparked the interest of over 200 Million people worldwide? The famous battle is still on: will red or blue win?
Think your grip can handle it?  Give it a go.